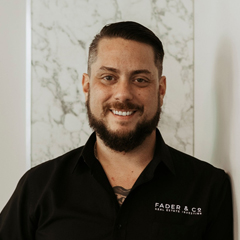 Michael Fader
REALTOR – Agent
Awards and Achievements
Member – National Association of Realtors
Member – Northeast Florida Assoc. of Realtors
Member – Northeast Florida MLS
About Michael
Michael was born into a family of active real estate agents, now brokers, who are still active in the industry today. By the time he came of age, real estate was nothing strange to him, since it was a daily topic of discussion in the home he grew up in.
Michael went on to find unique ways to apply his "love thy neighbor" principle to those in need in the community, particularly as it applied to their real estate needs. You see, Michael can hardly drive by someone who's broken down on the side of the road without stopping to help. This principle became the foundation of what he brought forward into his real estate business today.
Now, as a father and husband, he understands the importance of financial stability in the family, as well as the harmful effects that financial stress can impose. Consequently, in the course of his business, he finds unique and progressive ways to help others with their real estate needs by helping liquidate their properties, many with some of the most challenging problems, resulting in the most win-win circumstance possible.
[Provision Error #28.1 - This Showcase IDX website license is currently active in another WordPress install.]